This article explains the metrics and analytics that you have access to throughout the Wish Merchant Dashboard. When you log in to the Merchant Dashboard, you will be able to review your Average Product Rating, Current Balance, and Pending Balance.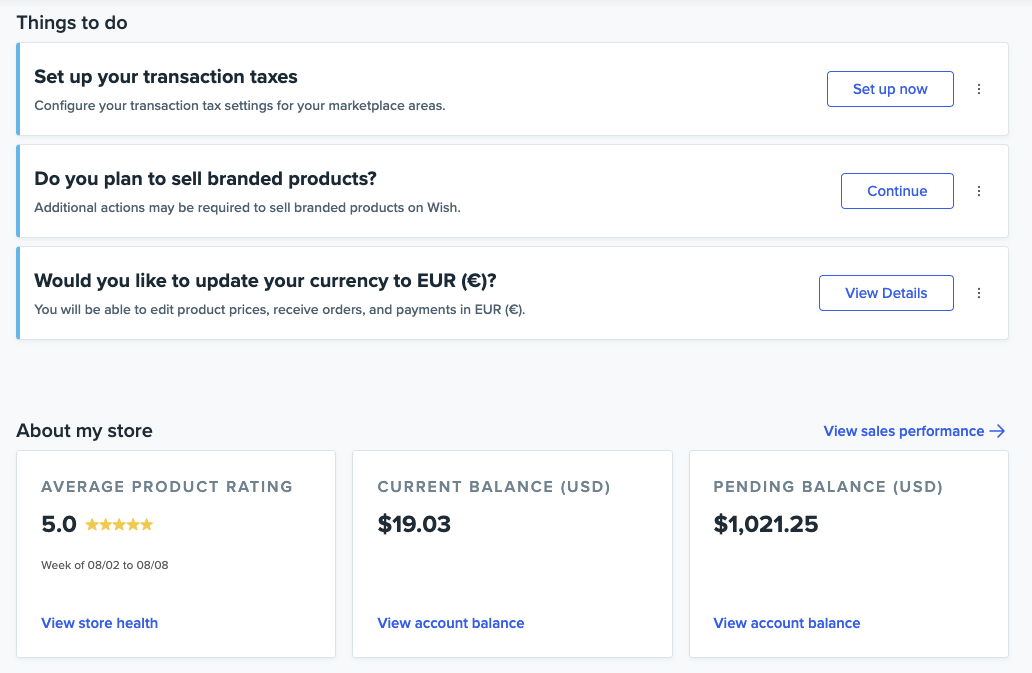 Previously, we displayed a variety of metrics on the homepage. These metrics are now available under Performance > Performance Overview. This performance dashboard contains two sections, Sales metrics and Store health. Specifically:
Sales metrics:

View data around daily sales performance and trends over various time periods.

Store health:

View data around shipping performance, product policy compliance, refund rate, product ratings, and customer service performance. Most metrics here are consolidated from the existing performance dashboards found under the Performance dropdown in Merchant Dashboard.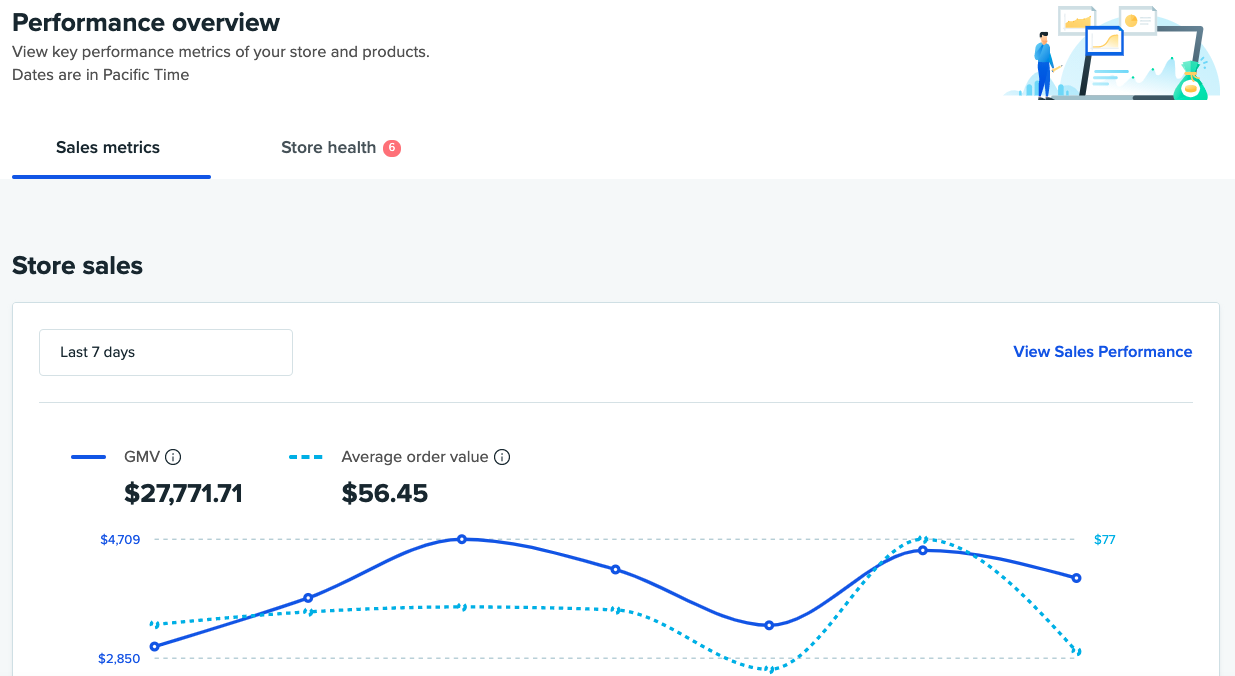 For an in-depth analysis, navigate to Performance > Sales Graphs. You can review your performance for any time period and trend the graph on a daily/weekly/ monthly basis.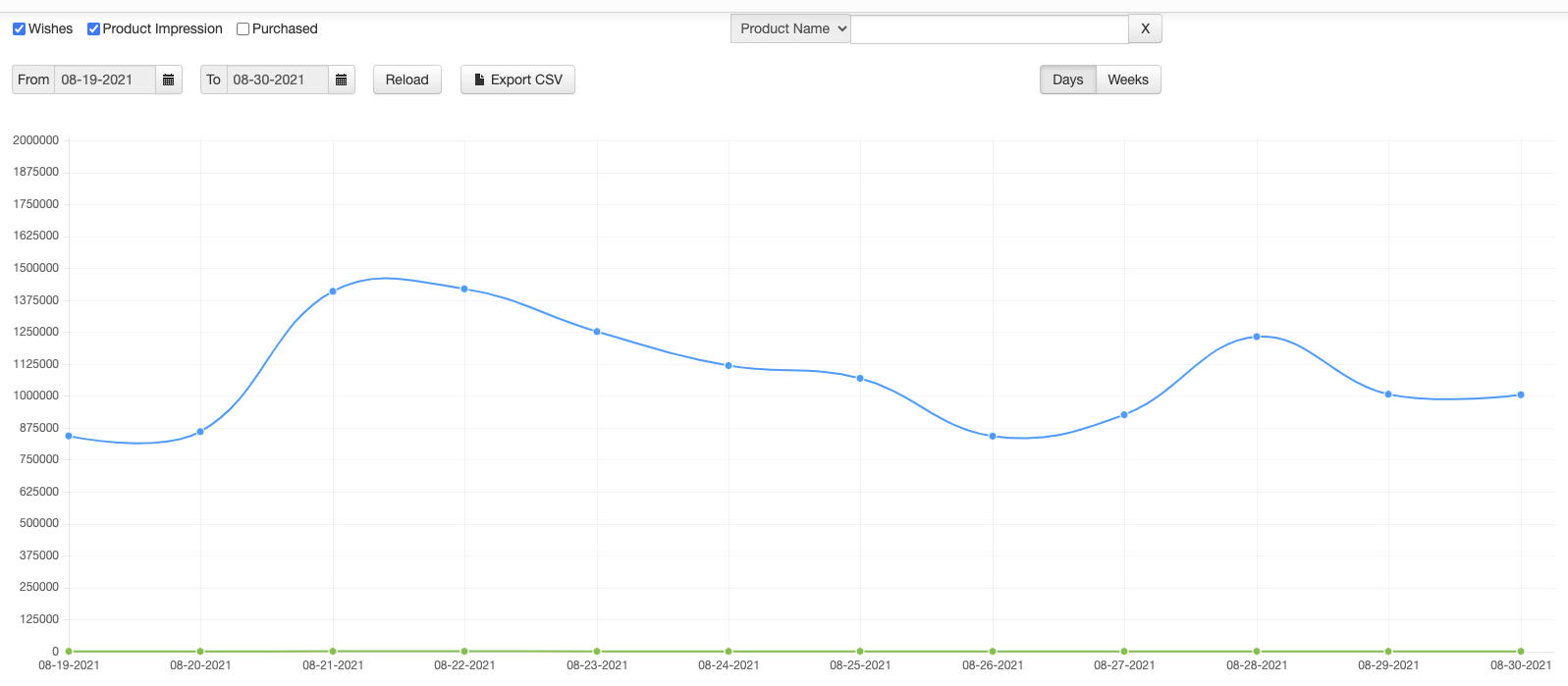 You may view additional sales performance metrics under the Performance > Sales Performance, and view a performance breakdown for individual products.

To learn about your product's performance metrics, navigate to Performance > Product Overview.

Navigate to Performance > Store Rating Performance to view a variety of store ratings metrics. On this page, you may click on the "Store Ratings" tab to review a breakdown of customer feedback metrics.

Note that merchants may also retrieve information on product ratings via API - please visit this API Documentation to learn more.
Under Performance > Shipping Performance, there are a variety of pages containing metrics to assess your shipping performance.

Navigate to Performance > Customer Service Performance to view a variety of customer service related metrics, including Refund rates, Chargeback rates, and Customer Satisfaction rates.

Under Performance > Customer Service Graphs, you can view customer service performance metrics including Average Fulfillment Rate, Refund Rate, Average Shipping Time, Average Shipment Delay, and Average Rating.
To dig deeper into your Refund Performance, navigate to Performance > Refund Performance.

Navigate to Performance > Counterfeit Rate Performance to view metrics concerning your store's Counterfeit rate