Merchants may submit a product edit request for selected products that were the subject of an intellectual property-related takedown request. The product edit request may update the product to remove elements that have been reported to be infringing on intellectual property. However, the product cannot be completely changed to a new product.
After the product edit request is submitted, a Wish admin will review it. If the product edit request is approved:
The product will be updated according to the edit request;

The product will be reactivated;

Updating the product listing will not reverse the fine.
If the edit request is not approved:
There will be no additional infractions or other actions taken; and

Merchants may submit another product edit request.
When editing products to remove items identified as infringing upon the intellectual property rights of others, merchants should remove the following from the product listing:
Brand names, logos, packaging, or tags on products you are not authorized to sell;

Unauthorized copyrighted images;

Blurred labels or tags from all images;

Famous celebrities or models from all images; and

Models with blurred faces from all images.
To submit a product edit request:
1. Click "Edit the listing" at the bottom of the infraction page for the infraction associated with the product.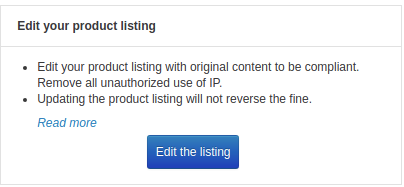 2. Edit the product listing to remove brands from:

Title

Description

All Images
Note: the product cannot be changed to a completely new product.
3. Once all necessary edits have been made, select "Submit Edit Request"
The edited listing will then be reviewed for relisting.
If you feel that your product was incorrectly identified as "Prohibited," learn how to file a dispute here.