You have received an infraction because Wish has detected that a product listing may infringe on intellectual property. If you have legal authorization to sell a product you may dispute, and the infraction will be reversed.
If you do not have legal authorization to sell this product, review your other listings and ensure that you only list products that you are legally authorized to sell.
To dispute a counterfeit infraction, gather all the required materials for each product.
Once you have collected all the required proof, follow the steps below:
1. Click "Provide authorization" at the bottom of the infraction page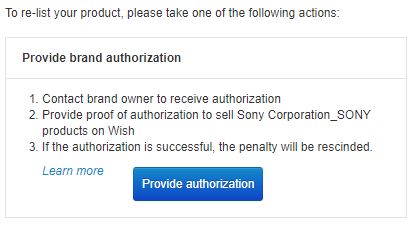 2. Choose an existing brand authorization or upload a new brand authorization.
Click here to learn how to add a brand authorization.

3. Click 'Submit' to file a dispute.