Customers expect orders made on Wish to be fulfilled in a timely manner. Orders that are not fulfilled in a timely manner lead to a poor customer shopping experience and hurt overall merchant performance in the Wish marketplace in the long run. To provide a better customer experience, Wish is announcing a new Fulfillment Policy in line with customer expectations.
For all orders released on April 12, 2018 or later, orders that are confirmed fulfilled late may be fined according to the Late Confirmed Fulfillment Policy 5.5. An order is considered to be confirmed fulfilled late if the time period from when the order is released to merchant to when the first carrier scan was recorded is longer than 168 hours (7 days). 
What are the fine penalty details for orders that are confirmed fulfilled late?  
Merchants will be fined 20% of the order value, or $1, whichever is greater, for any orders that are not confirmed shipped within 168 hours of the order being released. Order value is defined as order quantity * (merchant set price + shipping price).
Addendum: This fine policy will only apply to orders where (merchant price per item + shipping price per item) is less than $100.00.
An order's fine for late confirmed fulfillment will be reversed if the order is confirmed delivered by the carrier within X days from when the order was released to the merchant. 'X' varies by country, which you can view here.
Please allow up to 72 hours for fines to be reversed after delivery status of orders are updated.
https://merchant.wish.com/policy/fulfillment
Where can I see which orders have received fines?
Fines are deducted from a merchant's account at the order level. Fines are visible in the Wish merchant dashboard on the Account Balance page (Account > Account Balance):

Also, from the Orders > History page within the Wish merchant dashboard, merchants can view the payment status of each order by clicking on link in the Payment Status column, which will bring up the pop-up module below. The section on "Fines" will include mention of any fines related to Late Confirmed Fulfillment fine policy.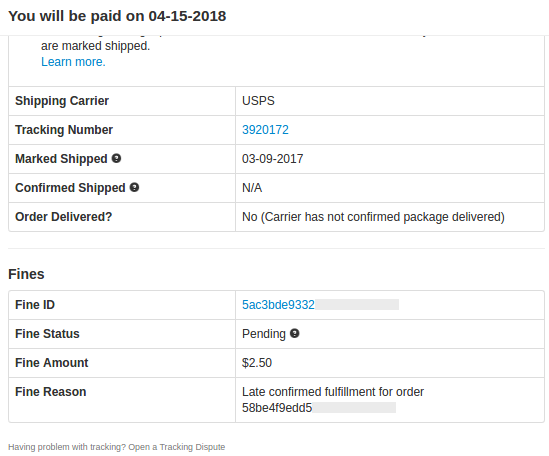 Can I dispute these fines?
Fines can be disputed via the Tracking Dispute tool, which you can learn more about here. Merchants can submit Tracking Disputes from the following places within the Wish Merchant Dashboard:
Orders > History > Payment Status column

Orders > History > Shipment Details

Orders > History > Actions
Once submitted, the status of a Dispute can be viewed in Account > Disputes. When a dispute related to Late Confirmed Fulfillment has been submitted by the merchant, updates will appear on the Tracking Dispute details page: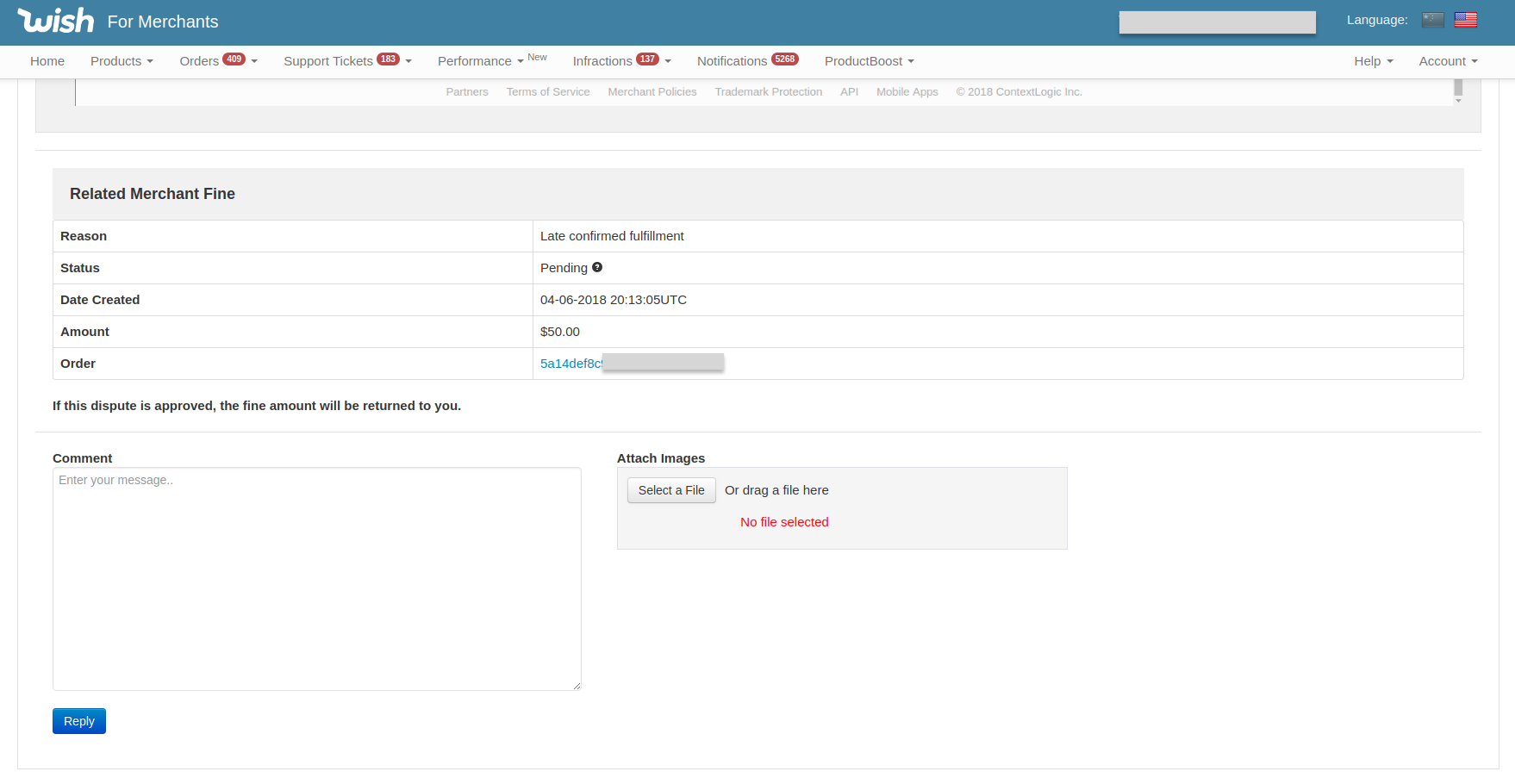 When a fine dispute has been approved by a Wish, the Payment Status for that order (visible in Orders > History within the Wish merchant dashboard) will look as follows with the Fine Status updated as "Cancelled:"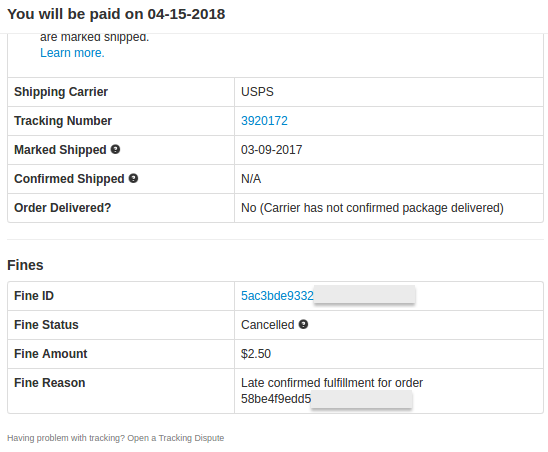 How do I find my store's Late Confirmed Fulfillment rate?
"Late Confirmed Fulfillment Rate" is calculated as the number of orders confirmed fulfilled late divided by the number of orders with valid tracking for that week. To view your store's late confirmed fulfillment rate, please visit this page.
How do I improve my late confirmed fulfillment rate?
Ship your orders as soon as possible. Giving customers updates on their orders' tracking information is crucial to customer satisfaction. Note that tracking information may not be modified past 21 days after order has been released to the merchant. 

Use a shipping carrier that provides valid tracking numbers and has a fast confirmation time. You can view the performance of various shipping providers: here
If you need help understanding your performance or choosing an appropriate shipping carrier, please reach out to your account manager.


Where can I see which orders have received fines?
To view all fines, check out the link here. From there you will be able to filter all fines for your orders.
You can also go directly here to view all fake tracking fines.