Rather than emailing customers to contact them, Wish asks that you use the Support Ticket feature on the Wish Merchant Dashboard for all communication between you and the customer.

Either you or the customer can open a ticket, reply to a ticket, and close a ticket.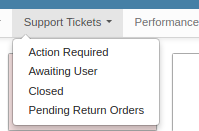 Support Tickets keeps a record of all on-going and resolved tickets for you, and they are searchable by ticket id, order id, or transaction id.