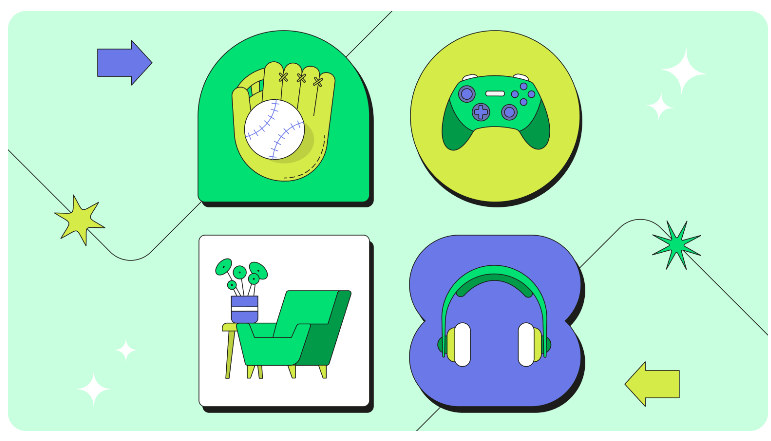 We recently announced that our merchants can now self-categorize product listings for all product categories. But what does this mean for Wish merchants?
Having a better understanding of different categories that tend to be popular on Wish will help you gain a better grasp of where products should be placed on the platform. Placing them in the correct categories and subcategories can help maximize your sales on Wish. 
To make it easier for you to understand what types of products belong in which category, we've compiled a list of some of the top categories and subcategories on the platform, as well as their definitions. Let's take a look!
Category: Home & Garden
Home & Garden is comprehensive of all product subcategories surrounding home goods, such as bathroom, bedroom, textiles, kitchen, storage, cleaning, garden, and decor. In addition, some subcategories related to home-based pastimes are included within Home & Garden, such as arts & crafts and pet products.
Top subcategories: Home Decor | Arts, Crafts & Sewing | Home Textile | Kitchen, Dining & Bar | Pet Products

Category: Sports
Sports represents all product subcategories related to outdoor activities, exercise and fitness, and sporting equipment. 
Top subcategories: Sports Clothing | Fitness & Body Building | Camping & Hiking | Cycling
Category: Entertainment
Entertainment represents hobbies and games that are mostly indoor- and adult-focused.  It is centralized around board games, card games, and musical instruments. 
Top subcategories: Board Games | Musical Instruments
Category: Toys & Hobbies
Toys & Hobbies is a more child- and teen-focused category, covering action figures, dolls, building blocks, remote-controlled toys, and stuffed animals. However, we include some age-agnostic product categories, such as puzzles and model-building sets.
Top subcategories: Action & Toy Figures | Outdoor Fun & Sports | Stuffed Animals & Plush Toys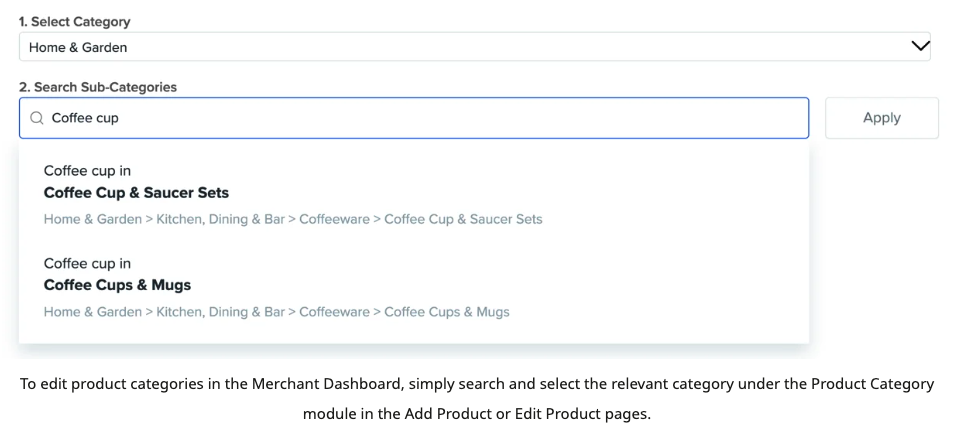 Category: Jewelry & Accessories
Jewelry and Accessories specifically covers jewelry and jewelry accessories. Think bracelets, earrings, necklaces, rings, and other jewelry categories are included. 
Top subcategories: Necklaces & Pendants | Rings | Jewelry Sets | Bracelets & Bangles
Category: Apparel Accessories
Apparel Accessories focuses on clothing items that fall outside of core outfits, such as hats, belts, gloves, scarves, glasses, and more.
Top subcategories: Glasses | Hats

Category: Luggage & Bags
Luggage & Bags contains bags across all use cases – from backpacks and totes to clutches and wallets and suitcases and luggage. Aside from sports-specific duffle bags, which can be found in Sports, all other bags can be found within the Luggage & Bags category.
Top subcategories: Women's Bags | Men's Bags

Category: Shoes
All Men's and Women's footwear can be found in the Shoes categories. While footwear that specializes in a specific sport can also be found in Sports, Shoes covers all footwear types, from work boots, to formal shoes, to casual sneakers.  
Top subcategories: Men's Shoes | Women's Shoes

Category: Home Improvement
Home Improvement covers household fixtures, appliances, hardware, and building supplies and equipment for home improvement, renovation, or small projects.
Top subcategories: Lights & Lighting | Hardware | Home Appliances

Category: Consumer Electronics
Consumer Electronics encompasses personal electronics and accessories that fall outside of Cellphones and Computers. Here, you'll find cameras, earphones & headphones, video games, home audio & video (projectors, streaming devices, televisions), and portable audio/video (music players, VR headsets).
Top subcategories: Earphones & Headphones | Smart Electronics | Camera & Photo | Video Games

Category: Computer & Office
Computer & Office comprises all electronics surrounding work and office needs, such as Computers & Computer Components, Laptops, Printers & Scanners, Tablets, and more. All computer-related needs can be found here.
Top subcategories: Desktops | Laptops | Computer Peripherals | Mouse & Keyboards

Category: Cellphones & Telecommunications
Cellphones & Telecommunications is specifically focused on mobile phones, accessories, and parts. Cellphones & smartphones, bags & cases, chargers & peripherals can all be found here.
Top subcategories: Mobile Phone Accessories | Phone Bags & Cases

Category: Men's Clothing
Men's clothing covers core clothing attire for men, such as tops, bottoms, jackets, underwear, sleepwear, and formal attire.
Top subcategories: Tops & Tees | Underwear & Sleepwear | Pants | Hoodies & Sweatshirts

Category; Women's Clothing
Women's Clothing covers core clothing attire for Women, such as tops, bottoms, jackets, activewear, underwear, sleepwear, and formal attire.
Top subcategories: Tops | Underwear & Sleepwear | Dresses | Bottoms | Activewear & Loungewear

DON'T FORGET ATTRIBUTES
Aside from gaining the ability to self-categorize listings for all product categories, merchants can also provide category-specific product attributes for certain product categories. Providing more structured listing information helps products correctly appear in search results and improves the quality of product listings. We'll touch more on attributes in a future blog post. For now, click here to learn more.