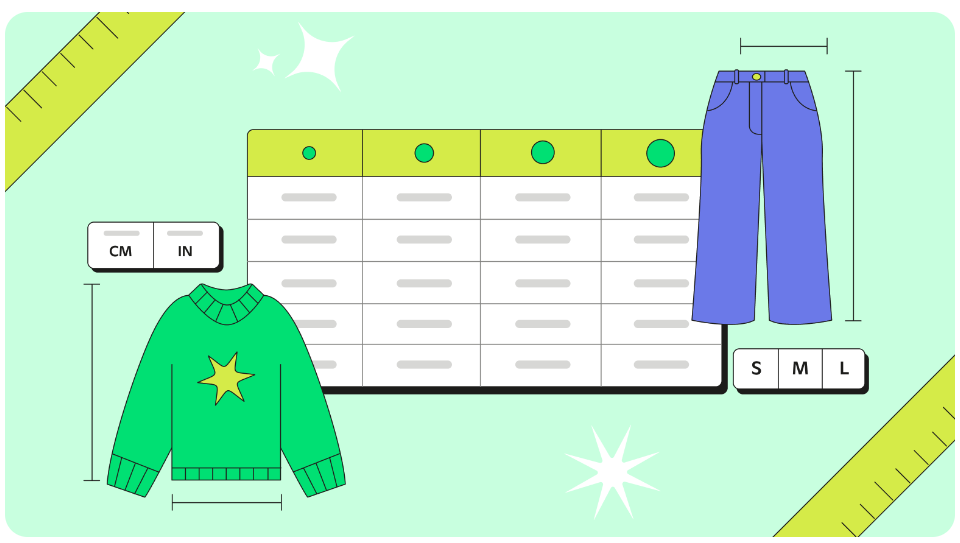 One of the top reasons for the return of fashion products on Wish is incorrect sizing. Thankfully, Wish makes it easy to add size charts to your product listings. Doing so may help increase sales, as well as reduce refunds, returns, and tons of merchant and shopper frustration. In this blog post, we'll walk you through the basics of creating and adding size charts to your product listings. Let's break out our measuring tapes and get right into it!
Size Chart Basics
Since standard sizing differs from region to region, it's vital to include exact measurements in your size charts. Wish is a global e-commerce platform, and your buyers could be from anywhere around the globe, so it's smart to include both metric and imperial measurements in your size charts. In other words, include both centimeters and inches.
Pro-Tip: Adding an image or two showing shoppers how to measure themselves accurately in your product listing helps ensure they order the correct size.
Make sure you're including all relevant measurements for your specific clothing item. A merchant selling pants would want to include measurements for waist, inseam, and hips. A merchant selling shirts would want to include measurements for chest, overall length, and sleeve length. The measurements you will want to provide will vary by the type of clothing item you're selling. Here's what a simple size chart might look like for a blouse:

While it's imperative you give exact measurements in your size charts, it's also helpful to show sizing comparisons across different countries. This makes it even easier for shoppers to pick their correct size. Here's an example:
Pro-Tip: When selling shoes, many merchants only include a shoe size compassion chart for different countries. You should include exact measurements for any wearable item, even shoes. This removes room for error when shoppers are choosing a size.
Creating A Size Chart
Once you have measurements ready, it's time to create your size chart. If you're creating a size chart from scratch, we recommend using a spreadsheet program or image editor. Searching the internet for "size chart template" will provide plenty of examples and templates to use. 
Adding Your Size Chart
After your size chart is created, you can add it to your product listing as an Extra Image. If you're unsure how to do that, this quick guide will walk you through the process. Once completed, shoppers will see your size chart when scrolling through your pictures.
Remember, taking just a few minutes to add a size chart to your listings could potentially help increase sales and decrease returns. It's well worth the effort.