As a merchant on Wish, you are responsible for ensuring the legal compliance of your products in the regions you deliver. In addition, Merchants must adhere to all of Wish's policies outlined in the Merchant Terms of Service including all policies pertaining to prohibited products and prohibited listing practices.
Wish serves a diverse audience that may include children as young as 13 years of age. Wish reserves the right to censor or remove any content that it feels may be inappropriate or harmful for these customers.
Listings that do not comply with Wish's policies may incur monetary penalties and/or be removed from the platform without prior notice. Additionally, Merchants who do not comply with Wish's policies may be subject to review, suspension, and/or termination. Please visit Merchant Policy 2.7 to learn more.
Prohibited on Wish:

The following are product categories that Wish prohibits merchants from selling:
(Note: Wish prohibits the sale of plant seeds that make impossible claims or use images that misrepresent the type of seeds being sold within the listing under all circumstances, whether or not sold by pre-approved merchants within specific regions.)
* NOTE: Prohibited product categories above marked with * may be subject to the following increased penalty, per Merchant Policy 2.7:
Merchants may be penalized up to $250 per violating product PLUS the total order value of all orders generated by the violating product during its lifetime.
Merchants can filter for all prohibited listings infractions via the Merchant Dashboard. Go to Infractions > Action Required, and in the "Filter by Reason" drop-down menu, scroll to the section "Other" (see image below) and choose, "Inappropriate content detected for product listing."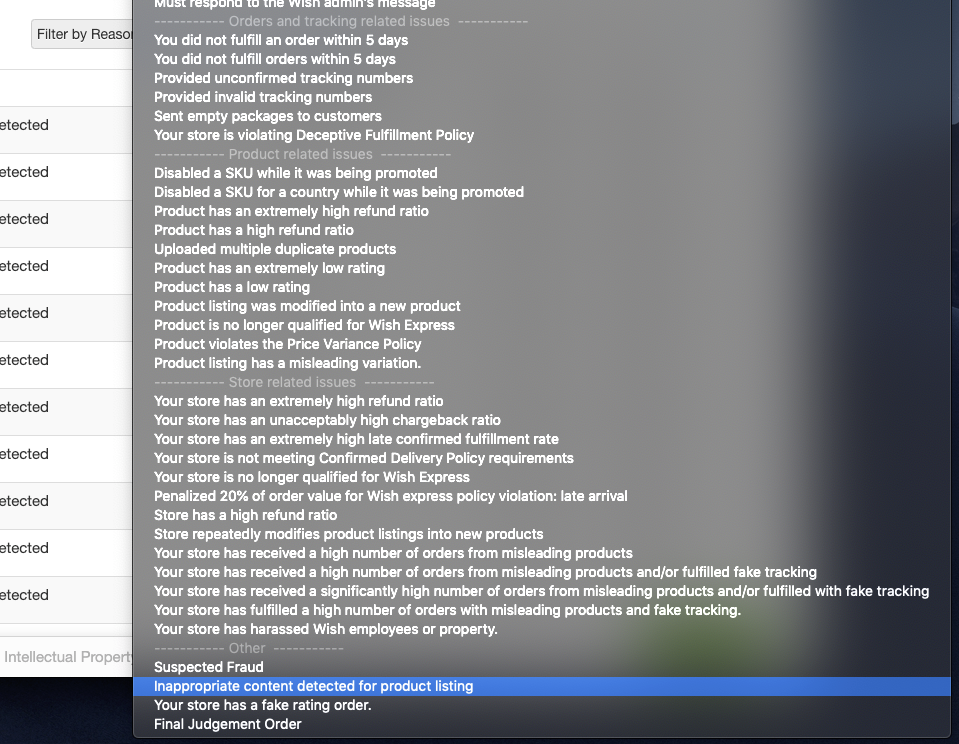 For each such infraction on the Infractions > Action Required page, merchants may submit an "Edit Product Request" to edit their prohibited listings that are removed by Wish, and have them re-listed if the requests are approved by Wish. Merchants' now-compliant products are once again available to customers across the globe.
To submit an "Edit Product Request" now, first identify all prohibited listing infractions (i.e., "Inappropriate content detected for product listing" as the infraction reason, as mentioned above) under the Infractions > Action Required page on your Merchant Dashboard.
Then in each prohibited listing infraction message, click "Re-edit the listing":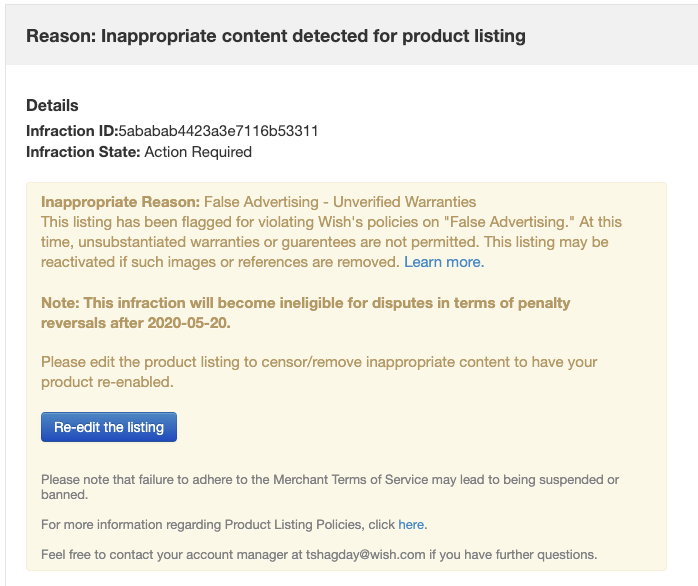 In the "Edit Product Request" popup modal that follows, make appropriate edits to your misleading products, and click "Submit Edit Request":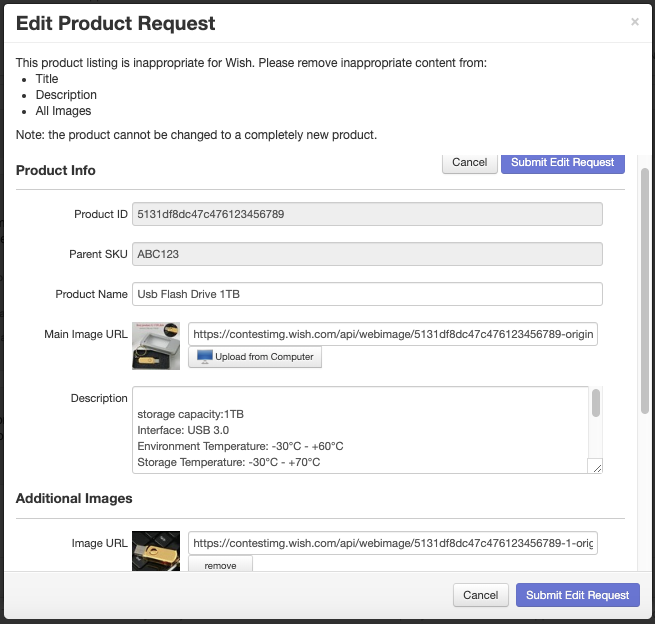 Wish will notify you of the request outcome (approved or rejected) within 5-7 business days.
As soon as a request is approved, the prohibited listing in question will be re-listed on Wish as a compliant product available for sale again. Note that the previously-issued penalty amount will not be reversed for the four prohibited product categories marked with * above, i.e.:
For other categories of prohibited products edited by merchants and approved by Wish through the process noted above, the penalty amount (up to $10) may be reversed.