As a merchant on Wish you are responsible for ensuring the legal compliance of your products in the regions you deliver. In addition, Merchants must adhere to all of Wish's policies outlined in the Merchant Terms of Service including all policies pertaining to prohibited products and prohibited listing practices.

Wish serves a diverse audience that may include children as young as 13 years of age. Wish reserves the right to censor or remove any content that it feels may be inappropriate or harmful for these customers.

Listings that do not comply with Wish's policies may incur monetary penalties and/or be removed from the platform without prior notice. Additionally, Merchants who do not comply with Wish's policies may be subject to review, suspension, and/or termination. https://merchant.wish.com/policy/listing
Prohibited on Wish:
The following are violations of Wish's policies:

Counterfeit Currency




Play/Prop/Replica money must be clearly marked with "reproduction," "replica," or "copy" in the title and description

Listings selling replica or reproduction of banknotes (for currently commercially exchangeable currency) must not be the ones that the general public might mistake for genuine banknotes

Play/Prop/Replica money must be one sided

Play/Prop/Replica money must be either smaller than 75% or larger than 150% the size of the genuine item

Play/Prop/Replica money listings must include a photo of the actual product being sold

Play/Prop/Replica coins of currency currently in circulation are not currently allowed

Direct copies of currently commercially exchangeable notes are not allowed

Products or Listings which infringe on intellectual property with the unauthorized use of registered trademarks, patents, or copyrights including by not limited to:

Medically Regulated Items without Authorization:

Contacts

Medications and Treatments

Drugs or Items with Medical Drug Claims

Injectable Substances

Hazardous Materials:

Wish does not permit the sale of hazardous materials which may prove dangerous to the consumer. Some products may be eligible for sale within certain shipping regions if the Merchant provides adequate safety certifications and proof of authorization.

Prohibited products include but are not limited to:

Butane

Hoverboards

Live Animal

Human By-Products

Materials for Consumption without Authorization:




Food Items

Beverages

Supplements and Vitamins
Graphic Sexual Content

Hardcore Pornography

Sexual Content Including or Relating to Minors

Gratuitous Nudity

Unnecessary Demonstration of Intimate Products

Weapons

Firearms

Ammunition

Assault Weapons

High Power Lasers

Unauthorized Safety Equipment

False Advertising

Watermarks, Logos, or Trademarks from other E-Commerce Sites
Projected Shipping Times or Costs
Unauthorized use of Wish-Owned Trademarks
Unverified Price Information
Unsubstantiated Warranties or Guarantees
Logos, Seals, Insignias, Credentials, ID cards, Badges, Trade Dress, or Branding of Accredited Agencies or Organizations – e.g.,

U.S. government agencies such as military branches, U.S. Coast Guard, and U.S. Customs and Border Protection
Federal, state, and local law-enforcement agencies
Ride-sharing entities, such as Uber, Lyft, Gett, Via, Curb, Didi Chuxing, Grab, and Ola

Plant Seeds with Impossible Claims or Fake Images
Merchant Contact or Referral Information
Note that merchants may edit their prohibited listings to comply with Wish's policies and have the products re-listed.
Merchants can filter for all prohibited listings infractions by selecting "Inappropriate content detected for product listing" in the "Filter by Reason" dropdown menu on Action Required, Pending Admin, and History pages under the Infractions menu of the Merchant Dashboard: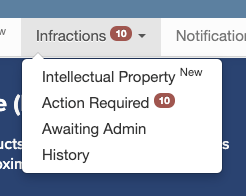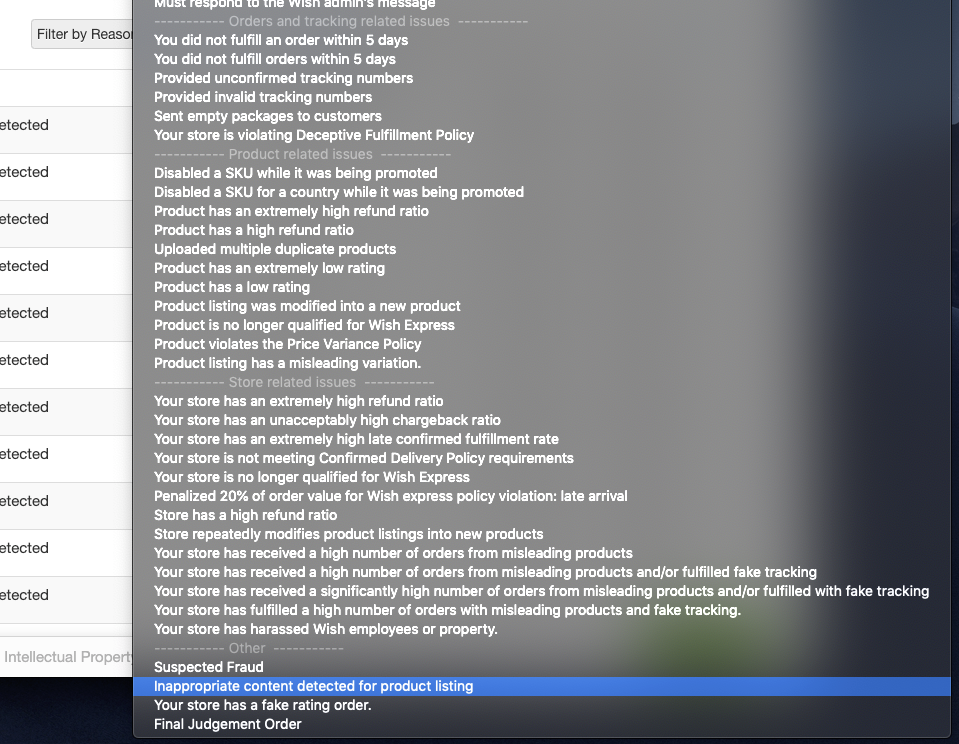 For each such infraction on the Infractions > Action Required page, merchants may submit an "Edit Product Request" to edit their prohibited listings that are removed by Wish, and have them re-listed if the requests are approved by Wish. Merchants' now-compliant products are once again available to customers across the globe.
To help merchants further expand their product offering by having more prohibited items corrected and re-listed through the "Edit Product Request" process, merchants can also receive the following limited-time benefit:
For all "Edit Product Requests" for product listings containing inappropriate content (excluding misleading listings) previously- and newly-submitted by April 1, 2020 12:00AM UTC, corresponding infractions' penalty amount up to $10 will be reversed for each request approved on or after March 9, 2020 12:00AM UTC.
For misleading listings' "Edit Product Request", please visit this FAQ instead.
To submit an "Edit Product Request" now, first identify all prohibited listing infractions (i.e. "Inappropriate content detected for product listing" as the infraction reason, as mentioned above) under the Infractions > Action Required page on your Merchant Dashboard.
Then in each prohibited listing infraction message, click "Re-edit the listing":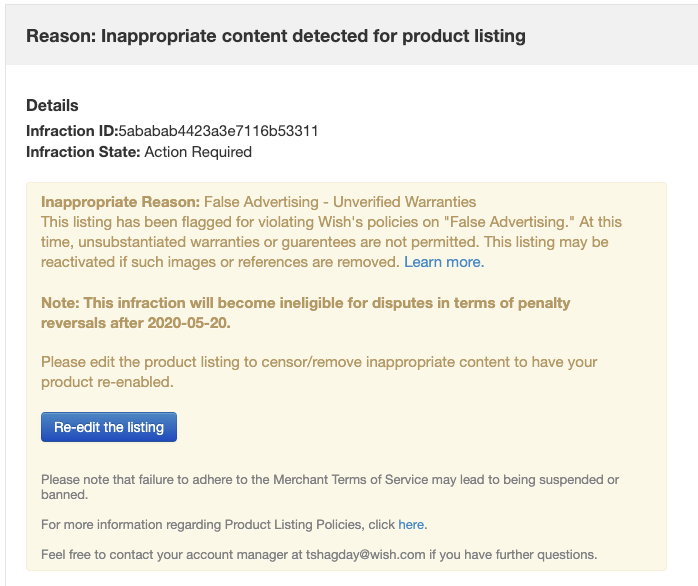 In the "Edit Product Request" popup modal that follows, make appropriate edits to your misleading products, and click "Submit Edit Request":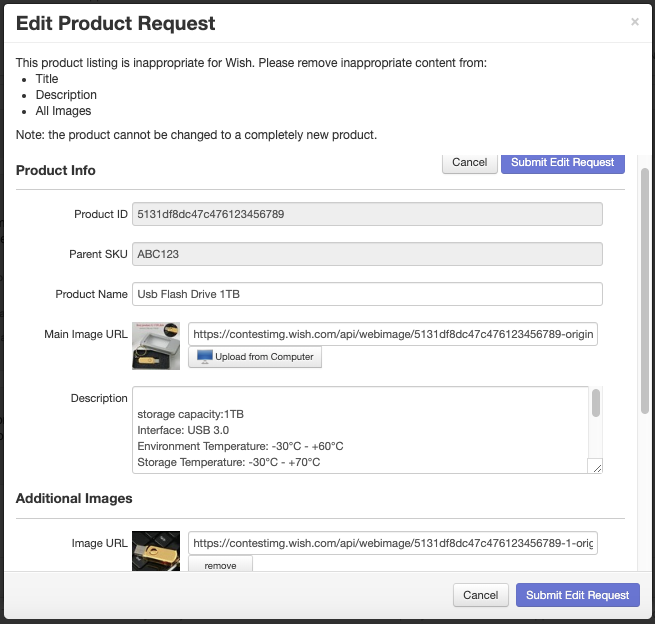 Wish will notify you of the request outcome (approved or rejected) within 5-7 business days.
As soon as a request is approved, the prohibited listing in question will be re-listed on Wish as a compliant product available for sale again, and for a limited time (as outlined above), the penalty amount (up to $10) will be reversed.