To help merchants best demonstrate and tell the story of their products to interested customers around the globe, Wish's demo video feature allows you to upload a brief video that highlights the functionality, use cases, and benefits of a product that you are selling. This article walks you through how to upload a demo video and some of the best practices of creating a demo video that has the best chance of attracting your customers.
How to upload a demo video for your products on Wish
You may upload demo videos for your products manually on Merchant Dashboard or via API.
1. To manually upload on Merchant Dashboard, first navigate to Products > Demo Videos page: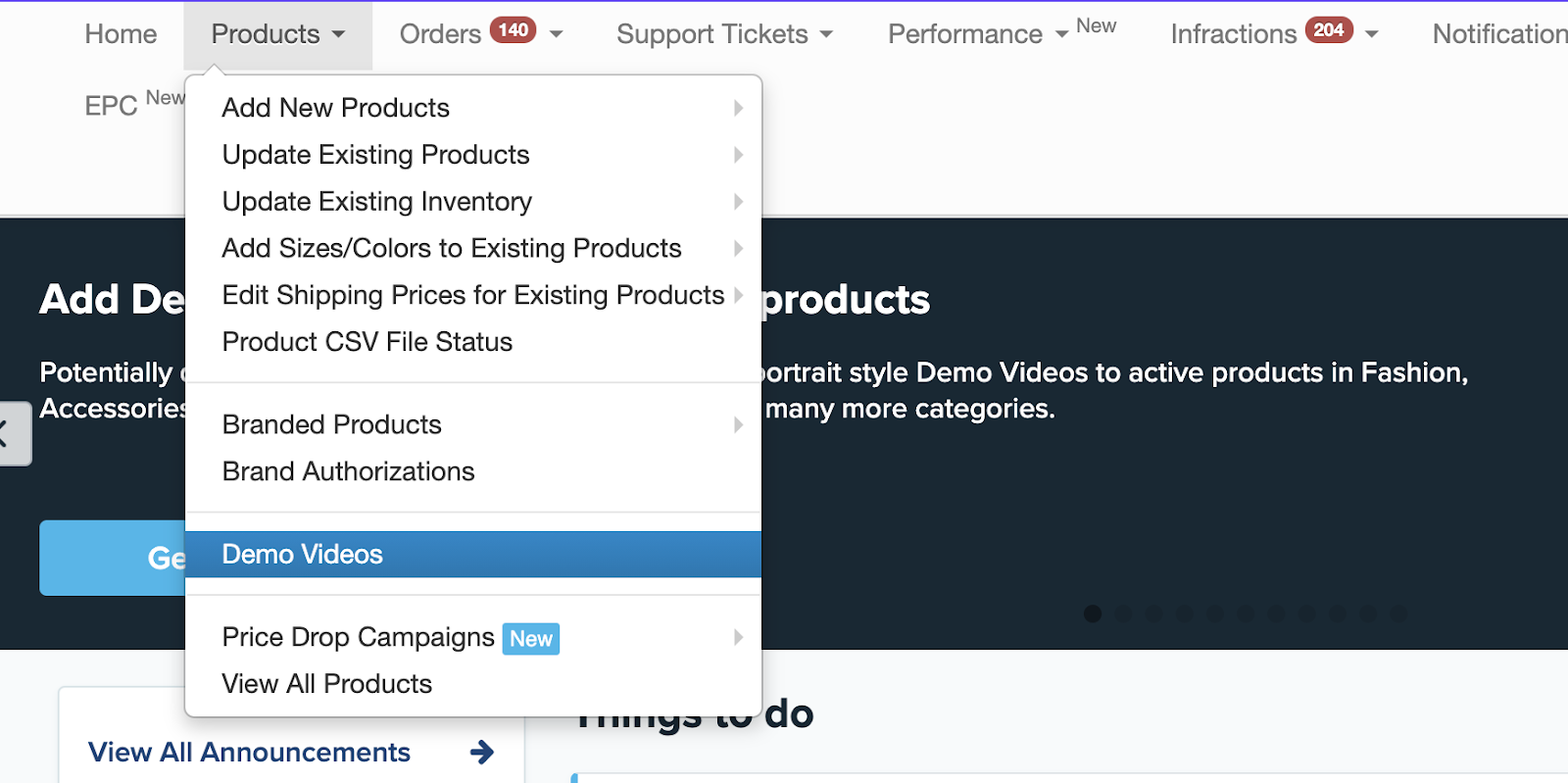 Next, you will enter a page where you can add demo videos for a list of your active products:
Please be sure to read through the best practice information on top of the page before you upload a demo video. This way, your demo video has the best chance of increasing your products' appeal in front of your customers.
Once you select a product to which you'd like to add a demo video, click "Add Demo Video" to proceed to a popup modal, shown below:
In this popup modal, you may either upload a video file or link to a video URL. You can crop your video to the 9:16 vertical ratio directly in the modal here too, if your original video is not of this size:
In addition, if you add a video URL, you may preview the video in this modal directly:
Please focus on bringing the product to life via your video! Your demo-style video should be 30 seconds or less; long commercial-style video generally does not do a good job highlighting the features, use cases, and benefits that your products can bring to your customers. As such, if you upload a video longer than 30 seconds, you will receive an error message in this modal, and will not be able to proceed further.
Please also only upload videos that are smaller than 50 MB in size. You will receive an error message if the video you upload is 50 MB or above.
In addition, please do not include embedded text, graphic overlays, or animated effects in your demo video either. Learn more about some of the best practices of demo video below.
Note that you can also take your product demo video directly on your smartphone. To learn more, please visit this article.
Lastly, please note that you may only add one video to one product. The final demo video shown to customers will be soundless and play on a continuous loop. So don't worry about removing audio from your video before you upload it here.
Once you complete the video upload, please click "Save" to proceed.
Then you will be redirected to the main page:
Here, you may update your existing demo video or add a new one for another product.
2. To upload a demo video via API, please see the information below:
When creating a new product listing, you are able to add a Demo Video by specifying a demo_video_asset_url field in our /api/v2/product/add endpoint. In this field, please provide a url where a demo video of your product can be downloaded. Please note that links to hosting services like Youtube, Amazon.com, Ebay, Etsy are not valid.
To add a demo video to an existing product listing, please specify a demo_video_asset_url field in our /api/v2/product/update endpoint. In this field, please provide a URL where a demo video of your product can be downloaded. Please note that links to hosting services like Youtube, Amazon.com, Ebay, Etsy are not valid.
Please visit this API documentation to learn more.

Best practices of demo videos and examples
Now you know how to upload a demo video to your product listings on Wish, let's look at some best practices of demo video that can bring more customer interest to your products and really bring your products to life.
1. Product categories that can benefit the most from a demo video
Based on our research, a demo video will be the most beneficial to highlighting the stories, features, and uses cases of the following product categories:
Fashion

Shoes

Accessories: wallets, bags, jewelry, watches, etc.

Make-up and beauty products

Home goods: decor, supplies, baking equipment, etc.

Novel gadgets

Phone gadgets and upgrades

Children's toys

Workout equipment

Pet toys and accessories
A demo video will unpack these products for your customers and help them truly visualize what it would be like for them to use and benefit from your products in their daily lives.
2. Common themes to include in your demo video to make it stand out
The themes and strategies of your demo video make a difference! Take the following approaches to make your video stand out:
Tell a story of your product via the demo video

A Demo video is essentially another channel for you to tell your brand and product stories, in addition to product images, title, description, and more.

As such, consider your demo video as a way to further showcase your product in use (with its details, functions, and use cases highlighted) to help customers envision using it themselves.

Your demo video is also a way for you to highlight your brand values, quality, and promises to your customers, along with any creative details of your product that your customers will love.

Keep the video short and sweet

Do not upload a demo video that's longer than 30 second - keep things short and sweet to best attract your customers' immediate attention.

Make it human!

Your goal is to make the video content feel relatable and trustworthy to your customers

Include emotionally compelling elements - highlight joy, fulfillment, charm, humor, wonder, and more in your demo video to delight and inspire your customers

Use your videos to address commonly asked questions

Elaborate and expand on your product description, titles, or even images via a demo video to overcome language barriers in the written description of your products and make your products truly global.

Showcase the product in various angles and scale to provide a 360 view of it.

Highlight unique design features or material of your products as well.
3. Other creative tips for your demo video:
Use high-resolution video so your products are clearly demonstrated

Use vibrant colors and make your video stand out and fun

Be sure that your video showcases a consistent brand voice and tone with the rest of your product listings, such as description, title, images, and more.

Avoid text and graphic overlay or animation effects in your demo video - they can crowd the video and potentially confuse your customers.
4. Sample demo video strategies per product category:
Combining the three best practices above, here we share a few sample strategies for particular product categories:
Home and Living

: Home and living product videos are most successful when they showcase the quality and craftsmanship of the item, or show how it works. Consider showing the scale and materials.

Bath and Beauty

: Show the item in use.

Jewelry and Accessories

: Showing the item on a model can help customers see movement, scale and details of the item. For products with an interior, like bags and purses, consider including the interior and showcase and special features like pockets or special details. You can also see props to show the storage capacity of a bag.

Clothing and Shoes

: Videos of these products on a model can help customers understand how a product hangs and moves. Use close up shots to show material details, textures, and quality.

Wedding and Party

: Highlighting the details and craftsmanship are key for wedding and party products. Using lifestyle videos/photos can also be helpful, as they show how a product can come to life in a real-life setting.

Craft Supplies

: Zoom in and provide an up-close angle that highlights details, materials, and textures. You can also show these items in use, for example, if you are selling yarn, consider showing it in use with a knitting project.

Art and Collectibles

: Using a staged lifestyle image can help show the scale.

Toys and Games

: Focus on showing what makes this game fun and unique. You can show it in use, and also consider showing the pieces that are included.
5. Success demo video examples:
We created the following example demo videos to further show you what a successful video looks like. Check them out:
Cornhole (game):
Makeup:
Floatie:
Organizer:
Clothing:
Kids chairs:
Weights:
Watch:
6. Demo video content policy:
Last but not least, to ensure that all contents provided by merchants adhere to the Merchant Policies and Wish's Terms of Services, we ask that demo videos be compliant with a series of content policies. Please visit this article for more information.
We hope you make the most out of our Demo Video feature to make your products come to life! Please provide any feedback to your Account Manager about this feature as well.