Merchants can add products, edit products, edit shipping, and add variations via CSV in Merchant Dashboard. Taking these actions via CSV allows merchants to efficiently make changes in bulk to their products.
Please note that new product listings and certain edits (Title, Description, Images, Size, Color, and GTIN) on existing listings will be subject to an updated review process before they are considered active on Wish. While under review, new listings will not be searchable or purchasable on the Wish platform and relevant edits will not reflect as updated on active listings. See here for more information.
See below for a step-by-step walkthrough of the product CSV upload experience:
1. First, navigate to Products > Add/Edit Products with CSV. On this page, select the type of action to take by clicking the "Action type" dropdown. These actions include Add products, Edit products, Edit shipping, and Add variations.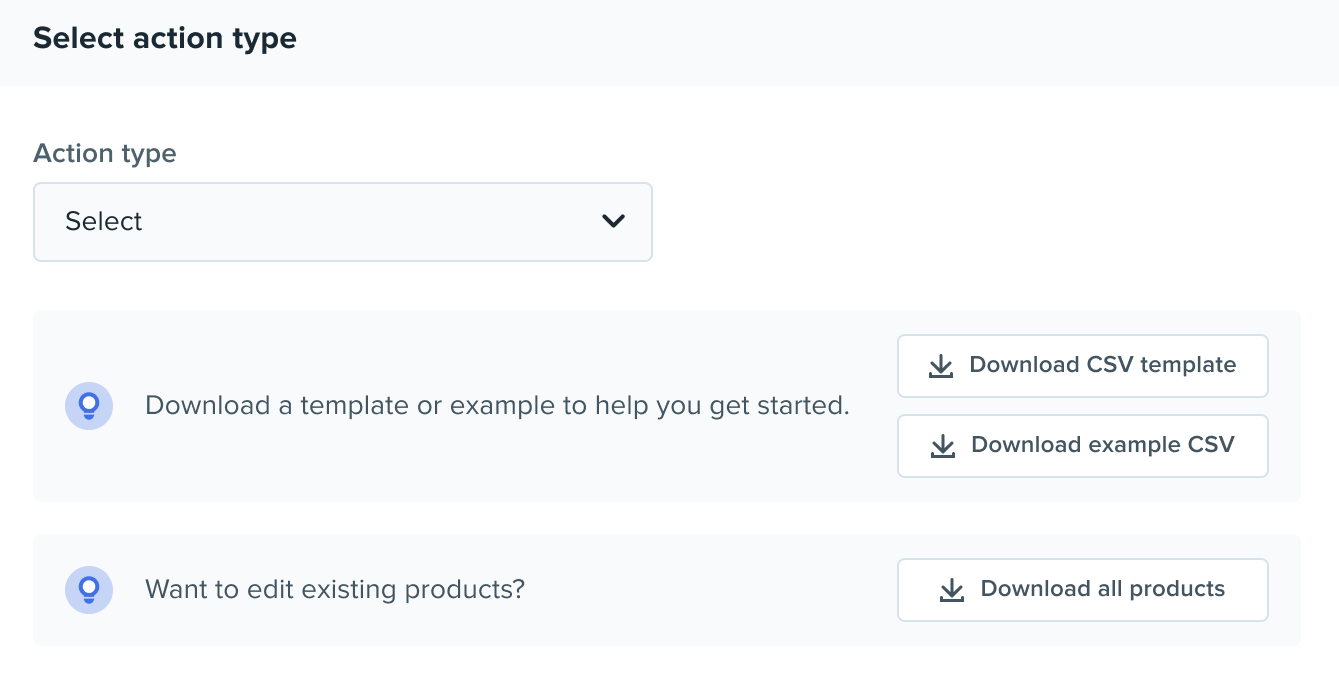 2. Next, download a CSV template to fill out with product information by clicking "Download CSV template". Merchants may also download an example CSV to see what a pre-filled template looks like by clicking "Download example CSV".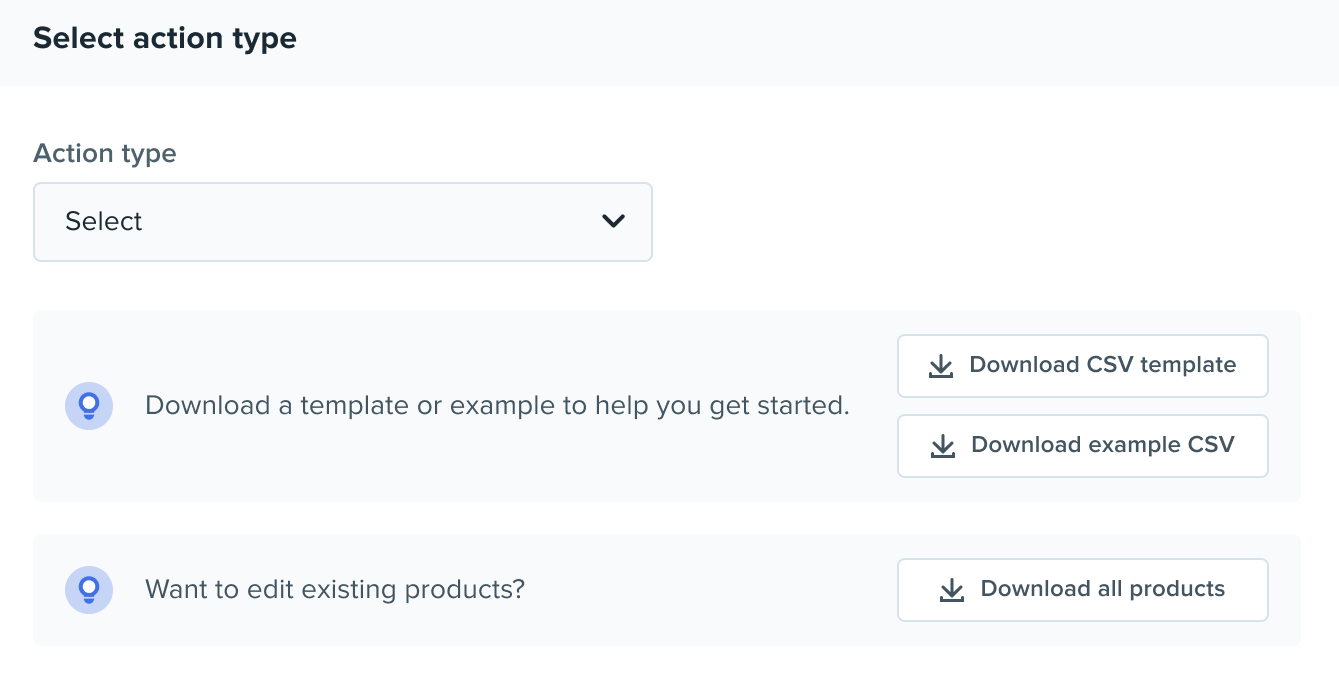 If merchants have existing products that they wish to edit, click "Download all products". This may take up to 24 hours to process depending on how many products merchants currently have. Merchants will receive an email once their product CSV is processed and ready to download.
Note: Merchants adding category-specific attributes should download a CSV template from the Categories and Attributes page to ensure relevant attributes are included as column headers.
3. Prepare a CSV file with a row for each Parent SKU (to group variations) or SKU (for each variation) by downloading either a CSV template (recommended for adding products) or all existing products (recommended for editing products).
Certain product attributes are required for different actions - please click "List of product attributes" to expand a table listing the actions and corresponding required product attributes. To expand a list of additional optional attributes, click "View more optional attributes" at the bottom of the table.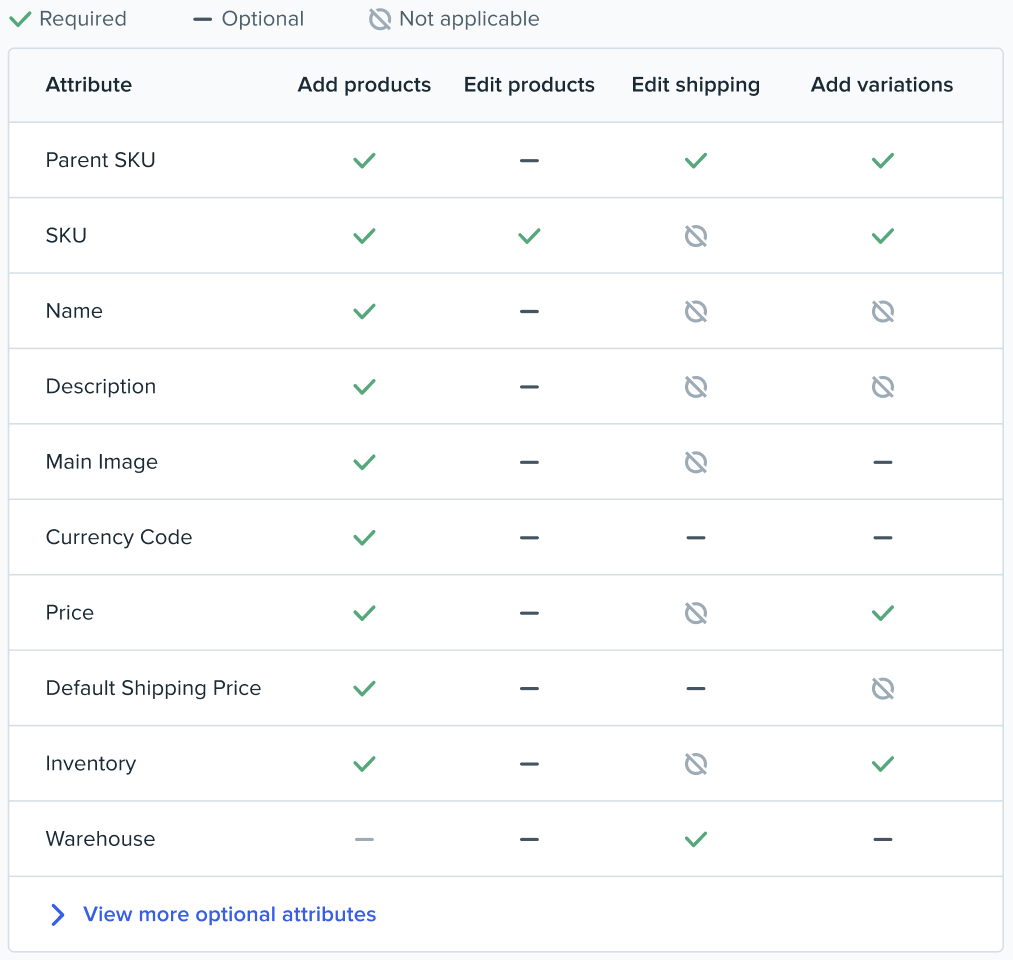 Please see this article for more information on required and optional product attributes, including attributes that have recently been renamed.
4. Upload the formatted CSV file when ready. Click the "Submit" button in the top right to proceed.
5. After submitting, merchants will land on a job details page indicating the progress of their product CSV upload. Merchants may hit the "Cancel" button on this page to stop an upload if desired. When the upload is complete, merchants will receive an email.
6. Merchants may navigate to the Product CSV File Status page from here by clicking the "Return to Product CSV File Status" link in the header. Merchants may also access this page by navigating to Products > Product CSV File Status.
On this page, merchants may view the status of all present and past product CSV uploads. The "Status" column here will display either Under Review, Canceled, or Complete.