This guide applies to United Kingdom (UK) and European Union (EU) merchants only.
---
Yes, you can sell refurbished consumer electronics goods on Wish! In fact, queries for refurbished products rank high on Wish. To meet this demand, we are committed to growing the refurbished category.
If you intend to sell refurbished electronics on Wish, it is important you know that refurbished products adhere to different listing and tax guidelines than products in new condition. Therefore, please read and follow the information below prior to loading refurbished products to your Wish store.
You are also advised to speak to a tax professional, as this guide is for informational purposes only and does not constitute legal or tax advice.
What Is a "Refurbished" Product
A product on the Wish platform is defined as "refurbished" when it is pre-owned or open-box, but then carefully examined, tested, and any faulty parts replaced with new/like new parts.
This differs from products that are Condition > Used, as those may not have been repaired or thoroughly inspected before putting it on sale again.
Wish currently supports refurbished consumer electronics that include:
Cameras
Computer Peripherals (e.g., printers, mice, keyboard, scanners, printer ink)
Gaming Consoles and Peripherals
Headphones/Headsets
Home Audio Visual including (e.g., televisions, media players, speakers)
Laptops/Desktop Computers
Small Domestic Appliances (e.g., toasters, kettles, air fryers)
Smartphones
Smartwatches
Tablets
Listing Your Products
When listing refurbished consumer electronics goods on our platform, they must be managed under one single refurbished electronics merchant account – separate from any new condition products – since refurbished goods' Value Added Tax (VAT) is treated differently than those in new condition.
Classification
Merchants are also responsible for classifying refurbished products correctly (select Condition > "Refurbished"), as the classification directly impacts the VAT handling.
Product Titles
Product titles and descriptions should include "Refurbished" so it is clear to customers that they are looking at/purchasing a refurbished item.
Set proper expectations for customers by providing accurate conditional details (i.e., scratch, dent) and overall condition:
Like New

- No scratches or scuffs and is in perfect working condition; free of defects and in perfect working order, just as if purchased brand new
Very Good

- Has had limited use and remains in good working condition; may show very minor wear with small scuffs or cosmetic blemishes
Good

- In good condition and functions properly; may arrive with damaged packaging or be repackaged and contain cosmetics damage such as scratches/dents or screen burn
Acceptable

- Heavy signs of use including dents and blemishes or screen burn.
We suggest formatting titles like this:
[Brand] + [Series Name] + [Model Name] + [Technical Specs] + [OS] + [Color] + [(Condition)] + [(Grade)]
For example:
Samsung Galaxy SM-T500NZATXAR Tab A7 10.4" 64 GB Wi-Fi Android 10 Touchscreen, Gray (Refurbished Very Good)
Apple MacBook Air 11" Core i5 [1.3/1.4GHz] [128GB] [4GB] [MD711LL/A] [Used - Good Scratch/Dent]
Branded Products
You can sell or resell refurbished branded product(s) on Wish as long as the item is authentic and does not violate Wish's policies.
Branded products can be sold on Wish under at least one of the following conditions:
You are the brand owner

You have authorization from the brand to sell

You have purchased your product from a legitimate source AND you have proof of purchase (e.g., an invoice)
Note that Wish requires you tag any authentic branded item you sell.
Taxes
Some refurbished consumer electronics goods sold within the UK and EU to individuals (B2C) might adhere to the VAT margin schemes, which means the goods are taxed on the difference between what you paid for an item and what you sold it for, rather than the full selling price. When VAT margin schemes are applicable to the refurbished products you are selling, you (the merchant) are responsible for correctly calculating VAT.
For example:
You buy a refurbished MacBook for £1,500 and sell it for £2,000. Using a margin scheme, you pay VAT at 16.67% (one-sixth) on the difference: £500. This means you pay £83.33.
Tax Settings
VAT and Merchant Dashboard Tax Settings are handled differently when VAT margin schemes apply. When you add a refurbished product to your refurbished electronics account – and depending on your location – you must set the following:
EU-domiciled merchants

exclusively selling refurbished products within the EU (limited to domestic orders) must not activate EU tax settings. This step ensures VAT is not collected by Wish at checkout.
UK-domiciled merchants

exclusively selling refurbished products within the UK (limited to domestic orders) must activate UK tax settings while providing consent that they have no VAT obligation (see screenshot below). This step ensures VAT is not collected by Wish at checkout; otherwise, VAT is always collected by default.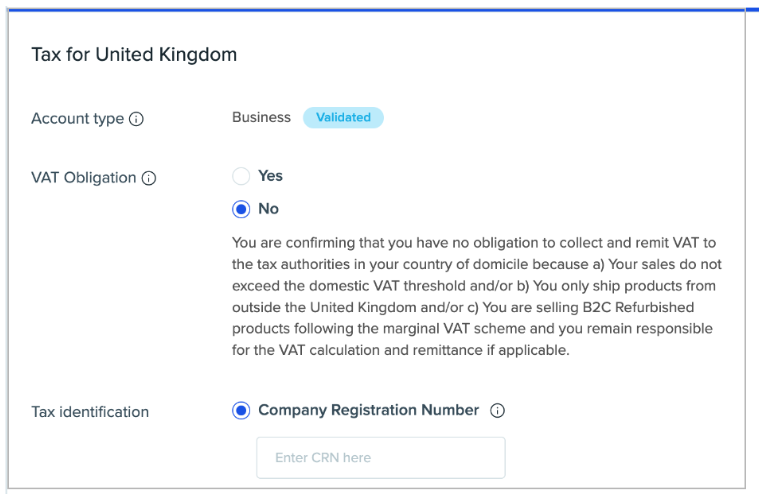 Per Wish Merchant Tax Policy, merchants are responsible for correctly identifying their filing obligations and collecting and reporting of VAT. Merchants are encouraged to contact a local advisor or expert for further information on the VAT responsibilities on selling some refurbished consumer electronic goods under the VAT margin schemes.
EU-based merchants: Please reference your local authority's guidance.
UK-based merchants: To understand your VAT responsibility, please visit

HM Revenue & Customs GOV.UK.
Invoicing
For your own record keeping and local requirements it is advised to issue invoices. If the customer reaches out post-purchase to ask for an invoice, please provide it to them.
FAQ
1. Where can I obtain customer details to file my Business (B2B) VAT?
Wish is a platform designed for catering to consumers (B2C), not businesses (B2B). We consider each customer as an individual and collect no information at check out that could identify the customer as a VAT registered business.