The yellow diamond badge (it appears next to a product in the Merchant Dashboard > View All Products page, see screenshot below), is a merchant-facing badge symbolizing that a product is a top seller and thus likely to receive many sales.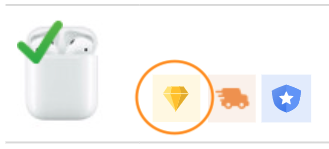 The yellow diamond badge is not user-facing, but rather a symbol within the Merchant Dashboard to help merchants quickly distinguish top sellers among all their products.
Wish automatically assigns a yellow diamond badge to top sellers based on their order and/or GMV volume. If volume drops for a yellow diamond product, Wish will automatically remove the badge. Note that merchants cannot opt a product out of the yellow diamond status.