The yellow diamond badge (it appears next to a product in the Merchant Dashboard > View All Products page, see screenshot below), is a merchant-facing badge symbolizing that a product is a top seller and thus likely to receive many sales.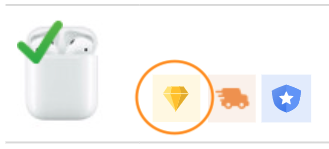 The yellow diamond badge is not user-facing, but rather a symbol within the Merchant Dashboard to help merchants quickly distinguish top sellers among all their products.
Wish automatically assigns a yellow diamond badge to top sellers based on their order and/or GMV volume. If volume drops for a yellow diamond product, Wish will automatically remove the badge. Note that merchants cannot opt a product out of the yellow diamond status.
Top-selling products receive a lot of user interest and purchases. For this reason, Wish may reject product edits or changes that might deliver a poor user experience and impact its top-seller status, including edits to images, titles, descriptions, and variations. Merchants should also refrain from extreme price increases, lowering their inventory, and adding new variations. Learn about Wish policy for yellow diamond products by visiting the Merchant Policy.