This article will explain how to disable products on the Wish Marketplace. You may want to disable products if they are out of stock, on backorder, or no longer available. You can also disable products if you will be on vacation or otherwise unable to fulfill orders at the moment. Disabling a product will not remove it from Wish but it will make it unable to purchase.
Disabling Multiple Products at Once
You can disable multiple products at once by editing your products with a feed file. To get started, you will need to have a feed saved as a CSV file. To make a disable feed, you will need to include the Unique ID for your products (such as SKU) and one of these attributes:
To disable a product, include a Disable attribute. Inputting "1" for this attribute will disable the product in that row.
To enable a product, include an Enable attribute. Inputting "1" for this attribute will enable the product in that row.
Here's what your blank feed may look like:

This particular feed would disable all the products listed in the file, as Disable is set to 1 for all rows.

Once you have a disable feed, login to the Merchant Dashboard and click on Products > Update Existing Products > Product CSV File from the top navigation bar. Select your CSV and click upload to upload your feed:





The rest of the process is the same as uploading a regular feed. You will have to map your attributes to ours and click Submit Feed: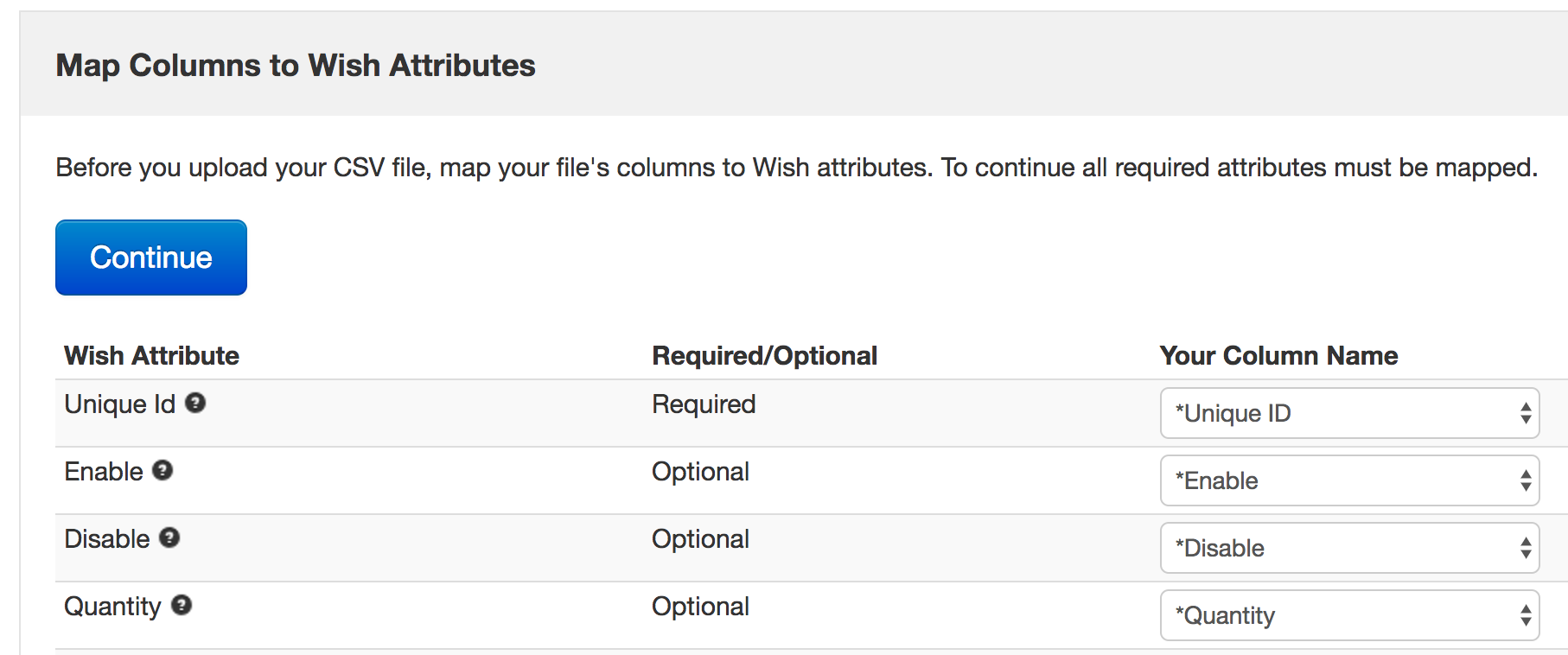 To check on the status of the import, you can click on the blue button that says "View import Status Page." You can also find this page by clicking on Products > Product CSV File Status and selecting "View Report" for this particular upload job. Once everything is done processing, your Products page should reflect this change by showing all your products as disabled.
Disabling Products Manually
You can disable one or more products at a time from your products page on the merchant dashboard. To get started, login to the merchant dashboard and click on Products > View All Products from the top menu. This will take you to http://merchant.wish.com/product. In the first row, you'll see a column heading "Enabled." This column will be checked for all your active products: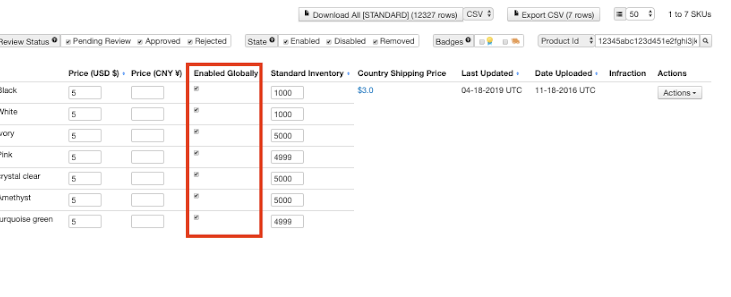 To disable one or more products, uncheck this option for those products. Click the blue "Update" button at the bottom of the page to save your changes.

This will disable any products that have unchecked boxes under the column "Enabled." Any products that still have this box checked will remain active on Wish.